It can be challenging to find good Yellowstone National Park Lodging that suits to your needs.
Looking for cozy and comfortable place to stay while visiting Yellowstone National Park that has kitchen for preparing meals, air conditioning for hot Montana summer, comfortable beds, living area with TV to spend time after exploring the park and dining area to have meals? 
Yellowstone's Treasure Cabins can guarantee you all above! This Yellowstone Park lodging is located very close to Yellowstone Park. Cabins are located in small charming town of Gardiner, MT. It takes only couple of minutes to drive to North Entrance. You will avoid extra driving time and have more time to explore the beauty of Yellowstone. Easy check-in and check-out with provided in email door code  is a bonus.
Yellowstone's Treasure Cabins is a property of 7 cabins. Accommodations include studio, one bedroom and two bedroom cabins with occupancy from 1 to 8 people. All of them have unique finishing and design. Homey style of the cabins will make you feel comfortable and cozy. Elk and deer are frequent guests to the property and make our guest's stay more memorable and bright. Closest airport is Bozeman Yellowstone International Airport (BZN). It is located in Belgrade, MT. It takes one hour and half to drive from BZN to Yellowstone's Treasure Cabins.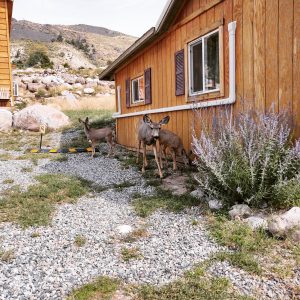 Yellowstone's Treasure Cabins is great base to explore entire Yellowstone Park. Download Gypsy app for Yellowstone National Park and explore park efficiently.
Hot shower and great heating system makes Yellowstone's Treasure Cabins desirable winter lodging near Yellowstone Park.
We are open year round and invite you to stay at cozy little cabins that have all essentials for comfort stay.
Do not waste your time searching for the best lodging in Yellowstone National Park. 
Book one of our cabins today!
Send us your questions or inquiries on ytcabins@gmail.com or call at (406)-595-79-54.